The Windswept Riders and Their Horses
I have been involved with horses for roughly 3/4 of my (young) life. In 2013 I was forced to place my three horses, Teddy, Grace and Whim with Heal With Horses, a non-profit organization that harnesses the healing power of horses to help heal all kinds of human hurts. I was forced to place them due to my needing to be hospitalized for major depression, and it shattered me. I felt like I had failed, that I didn't deserve to have horses ever again. Teddy was my childhood horse, and it broke me to think I could never have that connection with a horse again.
It took nearly a year before I would ride again, some friends' horses here and there. My self-esteem improved and I recognized that I wanted to get back into serious riding. Although I had had Teddy since 2005, I hadn't had a lesson since 2007. In May I found The Windswept Equestrian on Kijiji of all places, and spent hours pouring over the website. The warmth of the Windswept community seemed to radiate from each page, and I knew I wanted to try this place out. I wasn't looking to buy a horse, but I allowed myself to look at the For Sale page. It was there that I first saw "Mystery", a beautiful 2007 seal-brown gelding listed first on the page. I drooled over his videos before placing a call in to Wendy about possibly leasing him. I was struck by how genuinely kind Wendy was, and soon I was spilling my guts about my last year, my dogs, my riding, and the pain of losing my horses. She invited me out to try Mystery the very next day - I didn't sleep a wink.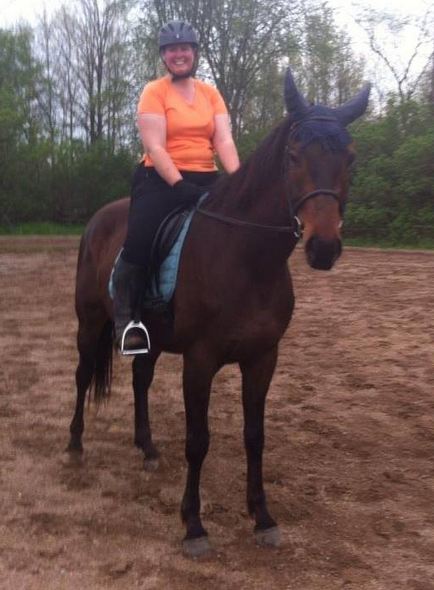 The moment I walked into the barn I was swarmed by the latest litter of Chesapeake Bay Retriever puppies - heaven for a dog person like me. I was already grinning like a fool when I went out into the huge paddock to fetch Mystery, the tallest of "The Herd". Although he is probably the most handsome horse I've ever seen, I was struck as to how relaxed and inquisitive ALL the horses were - there was no pushing and shoving, but everyone came forward for nose rubs. Not all horses like to be brushed and fawned over to the extent that I like to do so, but Mystery sighed happily and nuzzled my shoulder when I found an itchy spot. I should have known then that this was the beginning of a real partnership.

I knew that Wendy was an experienced horsewoman from reading the website, but I didn't realize how well she knew Mystery until I got on. She told me to do a big exhale - Huh? Sure enough, Mystery came to a perfectly square halt - I had never ridden a horse that was so well-schooled. Wendy zeroed in on my riding faults within seconds, and I was delighted. The reason I hadn't taken a lesson in so long was because I didn't find a coach that I connected with, who pushed me to perfect every aspect of my riding, but I found that in Wendy. Her humour, her kindness and her vast expanse of knowledge on all things horses were exactly what I was looking for. I also loved how willing and responsive Mystery was - a real treat to ride. I only stopped smiling when I dismounted, at which point I burst into tears. I had been hurting for so long that this dose of pure and utter joy seemed to shock my system. None of the girls were fazed - they knew before I did that Mystery was the horse for me. I couldn't sign that lease agreement fast enough.
I rode Mystery as often as my lease agreement allowed for a month and a half. I joined Carmin and Kristi in the jumping lessons, where Mystery blew me away with his scope, his eagerness and sheer power. I realized very quickly that this was no ordinary horse, and I was in grave danger of falling in love with him. I wanted to event, and I just knew that if I took him to a show that someone would see how lovely he is and he'd be sold right out from underneath me. I had been in the hospital, I had been under the care of various therapists, had taken various medications, but nothing helped my mood like that horse did. I spoke to Wendy and within a week I was signing Mystery's papers - he was mine.
I hadn't had a depressive episode since March. I had come a long way since that fateful night in June 2013, but it wasn't until I met Mystery that I felt happy again. He breathed the life back into me, he helped me let go of the pain of losing my horses, and let me fall in love with riding all over again.
Teddy and Grace are enjoying their lives as therapy horses at HWH, whereas Whim is still growing up at a neighbour's farm. Teddy is now the star of HWH's Autism program, where he helps children with Autism discover the joys of riding - he has even helped some non-verbal children find their voices. Check out their website: http://healwithhorses.ca/
HEAL with Horses · Human Equine Assisted Learning
HEAL with Horses in Wellington, ON utilizes therapy horses in Human Equine Assisted Learning to help with a variety of behavioural and emotional issues
What began as a recommendation to try out a new barn has developed into a rebirth of my past riding days! The Windswept Equestrian has become my destination for a great riding connection with the handsome "Joseph" and a warm personal connection with Wendy and the other riders.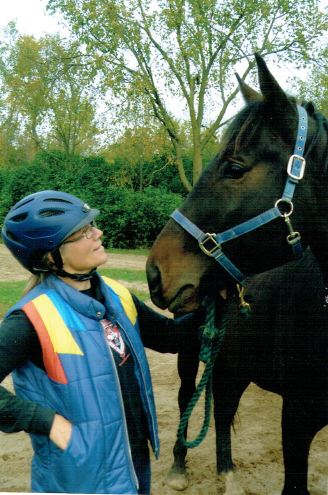 I started at The Windswept Equestrian with a lesson on 'Wings". Wendy's attitude during the lesson, one of encouragement, practical exercises, and humour, sold me. At the end of the lesson I wanted to be a part of this barn. Further lessons exposed me to some of Wendy's other horses, one of whom is "Joseph". He's a handsome 16.2hh dark bay 7 year old gelding. "Joseph" is a product of The Windswept Equestrian's breeding and culture. He has excellent barn manners and a positive attitude in the ring. He is keen to try all things I ask and Wendy is now coaching the two of us!

I started my second winter of riding this year- something I was skeptical about. There is nothing quite like riding in the snow under a full moon. I owned my first horse in my teens and now, in my 50s, love leasing "Joseph".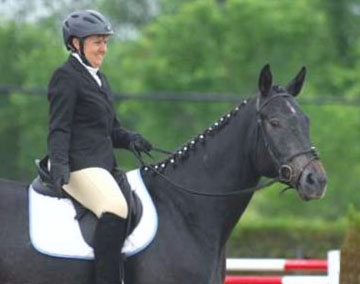 Just before I retired I made a decision that I would take horse-back riding lessons. It was something that I had wanted to do for a very long time. Once in a while I had looked into lessons, but it wasn't meant to be. I hadn't ridden a horse since the Fall of 1980, when I had to sell my own two horses. My husband had been transferred for his job and we had a 3 month old baby boy, Adam. At that time in our lives we couldn't afford to keep them if we had to pay for them to be boarded. The unfortunate thing was, together we made a bad pact, I gave up riding and being around horses, and my husband gave up his skidoo, something that he loved to do. So until I wound up at The Windswept Equestrian in the fall of 2007 I hadn't been near a horse, except for the occasional pony ride I had taken my children Adam and Leanne too.
I asked my friend Jennifer who worked in the same office and also lived around the corner from me, if she could recommend somewhere in the area that gave riding lessons. I didn't want to go to a big barn; I just wanted something on a smaller scale. She told me about The Windswept Equestrian and Wendy, so when I got home that night I called and made an appointment to visit the farm to meet her and watch a lesson. The first thing I remember was as I got out of my car I could smell the grass, the hay and the horses, something I had been missing for a very long time, it was truly an amazing combination of aromas. I met the horses and the other riders who were all very friendly and welcoming. I watched the lesson and noticed how helpful Wendy was with her students, providing instruction and asking questions to ensure that they understood what she had told them exactly what I knew I needed, so at the end of my visit I set up a lesson.
I was really nervous that first time, I wasn't sure if I'd even remember how to saddle a horse, but other than a slight shift in the saddle Wendy said I was good to go. My first ride was to be on Wings, she's a fabulous horse for beginners; she's steady, willing and patient with her riders and I swear she knows when you are ready to do more. Now she's not one of those horses that just plod along, you know the kind, they almost seem like they are on auto pilot, although she may give you that impression, she really makes you work. If you give her the proper cues, keep your legs on, watch where you are going she will do everything you ask of her, however if you don't you may find yourself on the side of the ring while she munches on that perfect blade of grass. I have seen Wings with a more experienced rider, she is fabulous; she jumps, does dressage and is generally a delightful ride. Now we didn't do anything spectacular that first time, we walked and trotted and Wendy instructed me on where my legs should be, reminded me of the different cues to give and other fundamental things for navigating the ring. I had definitely developed a "couch seat" over the years (oh I know it's chair seat but after 30 years mine was definitely a couch a sagging one at that!) and it would take some work to get any resemblance of a correct seat back, but I was determined to stick with it, now that I had gotten back in the saddle. The other riders in the ring were very supportive and when Wendy was working with someone else they would give me pointers and encouragement.
When I left the farm that evening I had the biggest smile on my face, I couldn't help it and I can't explain the euphoria I felt in having done something I had been missing for far too many years.
I took weekly lessons for a while riding Wings for a couple of months and then I moved up to Indy, who I leased from December to the end of April 2008 enabling me to ride 3 times a week. I had decided that after taking lessons for a while that later that summer I would purchase my own horse. I knew exactly what I needed; it was going to be a mare, just over 15h, definitely bomb proof, around 10 years old, something solid! But as it turned out that wasn't quite what I purchased because I'm positive Minstrel had other ideas. While leasing Indy I occasionally rode Minstrel and really liked him. Every time I went in the field to get Indy he always found me and insisted that I at least pet him even if I wasn't going to ride him. I'd go home each night and tell my husband Roger how much I liked Minstrel and would go on and on about him. I wasn't going to buy him though because he was just rising 4 and although trained, still not what I would call bomb proof definitely not what I was looking for... but some things are just meant to be. On April 30th, 2008 I walked into the barn to find Wendy and some of the younger students waiting for me; there was Minstrel all dressed up with bows and ribbons. My husband Roger who was working out of town that week, had bought him from Wendy for my birthday/retirement gift, I was speechless (which is some feat to say the least!)
I must admit, if I wasn't boarding him with a coach like Wendy I wouldn't have him. If I had just bought him and taken him home to ride by myself he would have been too much for me. I was only a few months into being back in the saddle and I didn't/don't have the seat and flexibility I did when I was a teenager or in my early 20's. With Wendy's help Minstrel and I have developed our bond and our skills over the last few years. We've even done the local QSLB dressage shows; something I was never interested in doing when I was younger. It was fun to do and the best part was getting the judge's comments on the score sheet showing me what we needed to improve and what we did correctly. In 2011 we even finished Senior Reserve Champion in Bronze Walk/Trot, something I never expected to do. We haven't done any shows for a couple of years now, as we ride at the farm or go on long trail rides but I won't say that we wouldn't do it again in the future. Minstrel and I are a work in progress; together with Wendy's help we are always learning. We have our tussles, but I love the big brat we have a wonderful connection and an understanding.... he lets me ride him and I give him treats.
I'm still at The Windswept Equestrian, and have many new friends of all ages. I am completely retired so if I'm not with my husband Roger or my children, their spouses and grandchildren Tristan and Tenley (or as I call them TNT) I spend a lot of time at the farm with my dogs MacGyver (passed away winter 2014) and Ripple (River's Daughter). Wendy and I have become very good friends and I love working outside, so helping Wendy with fencing and other farm chores is way too much fun for me. (and Roger is quite happy as it keeps me from thinking up ideas to help him do around our own house. :) I've been helping Wendy with training horses as she needs that ground person who won't let go! And, I design and take care of this web site with lots of input from Wendy as to the content, I've learned lots and have fun doing it.
Oh and my husband Roger decided that instead of a skidoo he'd get himself a boat, so we are both extremely happy.
Grier and Radiant Destiny (aka R D)
Wendy McLaughlan saved my riding relationship with my horse. When I came to The Windswept Equestrian, I had had injuries that left me afraid in the saddle. Many people had advised me that at my age, I should get rid of my mare RD and get an old, dead-broke gelding. But my love for my horse was what kept me wanting to ride. Admittedly it was easier to feel the love when she was not redefining the term marish for me, but if I gave up on her, I really did not see how I would still have the heart to ride. Before I gave up and dumped her in a field, I needed to know I had really tried.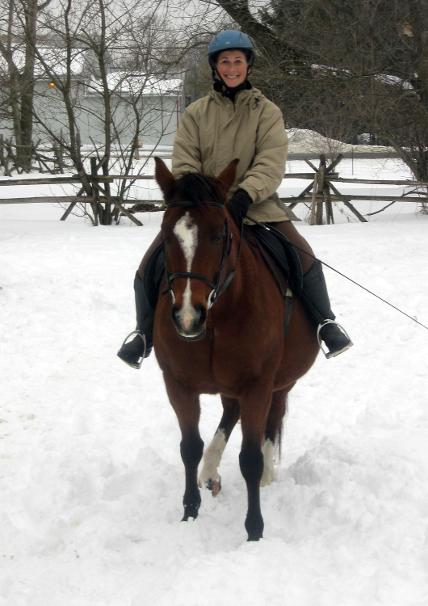 So I turned to Wendy McLaughlan who offers an incredible talent not only as a coach for humans, but also as a trainer of horses. My plan was I would come to take lessons at The Windswept Equestrian to get my seat back. Then I would bring my horse to board at the barn and train with her. I did not know if I would be successful. The first thing I noticed was how willing and kind Wendy's horses are, how eager they are to please, how forgiving they can be of human error. What I had not expected was the incredibly supportive riding environment at Windswept. The other riders were consistently kind and patient with me, keeping an eye on me, gauging my comfort level without making me feel singled out, and inviting me to do more challenging things as my skills increased. Now my confidence and my horse's compliance have increased so much that it's a joy to ride RD again. I look forward with enthusiasm to an ever-improving partnership with my horse. I recommend Windswept Equestrian to anyone looking to recapture their love of riding,
NOTE: Grier, RD and Mo'Glee have moved on to another farm closer to Grier's home, which enables Grier to visit and ride them more often.

The Windswept Equestrian welcomed
Skye and RD's foal
"Moon Shadow" born July 1, 2013.
Grier says "I am overjoyed with the new foal. He is more than I hoped for. I am staggered by how robust he is, how straight and powerful, and how confident, sensible and attentive his temperament. Of course, he happens to be drop dead gorgeous too! It is a delight to watch him show off his latest moves, and I love how he holds his tail like a banner when he knows he's being admired."