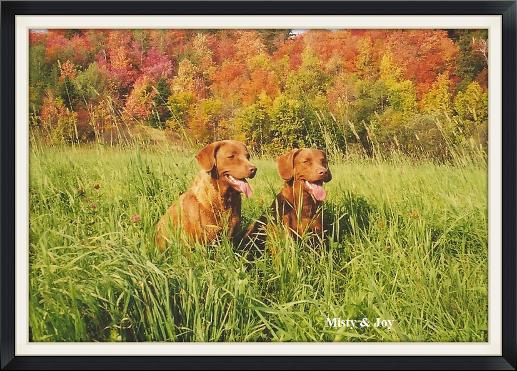 The Chesapeake Bay Retriever is a working dog who forms a close loving bond with their human companion.
Chessies have a reputation as the hardiest, most willing cold water retriever and their lovely dense wavy coat with its water repellant layer shakes nearly dry.
My love of Chessies began with my first dog Sadie. She was intelligent, sweet tempered, affectionate and loyal.
She and her 1st cousin Moosey were 2nd generation out of Freeman's Stonehenge Kennel's in Battersea. Their grandsire and granddam were Riverview Max and Sugar Maisey. These dogs shared both a wonderful temperament and great natural hunting ability.
One of the things that is attractive about the Chesapeake is the shades of golden brown and various degrees of waviness their coats present. They range from "deadgrass", like Sadie, Meg, Dawn and Faith; "sedge" (reddish brown) like Misty and Moosey and many shades of brown, like Joy and Tonka. Interestingly a dog like Meg bred to another darker deadgrass dog still produces all shades. (Note, photo of Meg with daughter Darma)
I love the Chesapeake's strength and determination, and am careful to continue breeding for great temperament as well as trainability and strong retriever instincts.
(Follow the links to see individual stories of each of my Chessie's and also to see
pictures of the male dogs follow the links attached to their names.)